Hi everyone, just wanted to share with you all, this honor that "Pages In Time" had given me recently. I've been selected as their first "Inspirational Muse" designer.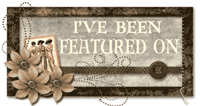 That is such an honor for me. You all could check out what they've written about me here. Thank you very much "Pages In Time"!
Secondly, I would like to share a little fun giveaway at Clear Scraps blog! Clear Scraps is doing a giveaway on their blog every Friday. Make sure you all check it out every week. Who knows that some of you might be lucky enough to win some acrylics goodies from Clear Scraps! Good luck!
My second video is already live on youtube. I'll be sharing the post on it here on Monday. For those of you who can't wait for it, just go to youtube and search for my channel. My channel is "Scrapperlicious". If you have a youtube account, feel free to subscribe to my channel to make sure you would not miss out on any of my videos. I'm in the process of making more videos for you all. So stay tune for them! Have a great weekend!
Scrapbooking Pros Reveals their tricks of the trade. Check it out
here!